Winter used to be a slow time for Darren Jolliff's tree care business. It changed radically after he read How God Taught Me About Prosperity. In the minibook, Kenneth E. Hagin shared how Jesus instructed him, "Don't pray about money anymore. . . . Claim whatever you need or want. Say, 'Satan, take your hands off my finances.' Then say, 'Go, ministering spirits, and cause the money to come.' "*
Darren realized he had a say in his prosperity! He shifted from passively believing God would take care of his finances to claiming the needed money every month. Today, winter brings just as much business as summer.
When his wife, ReJeanna, mentioned an amount to believe for by year-end, it was a giant leap of faith! Darren jumped in and said, "I'll hook up with you!"
One Mile of Trees
Soon a client called about a new job. It wasn't Darren's usual trimming or removal work. The customer wanted new trees across one full mile—522 saplings planted before Christmas. The job was large enough to meet the goal!
Negotiations and details distilled into a contract. Paperwork was ready for signatures, but an obstacle emerged. The landowner mentioned another contract with a "cow guy."
One Herd of Cows
There was a prepaid arrangement for cattle to winter graze the land. Darren knew that saplings could not survive livestock. While he explored solutions, God prompted him to continue doing tedious prep work.
Darren wrestled with God's instruction. He could immediately start a much smaller job. Time would be wasted if this job didn't come through. But God wouldn't let him loose.
When he relented and brought his team to the property, he noticed a man in a cowboy hat approaching them. Darren laughed, "Are you the cow guy?" He replied, "You're the tree guy?" They had known one another since high school.
He stopped by because the landowner had mentioned the "tree guy." Without Darren asking or trying to work out a deal, he said, "My cows will tear up your trees! Let me talk to the landowner. I can make other arrangements."
During an unlikely time, an unusual job brought an abundant blessing.
Hold On
Instead of moving forward, the plan dwindled! The client proposed ten percent of the original order, 50 trees, individually fenced to protect the saplings from the cattle. Darren couldn't guarantee they would be safe. Then it seemed like the owner might hold off on planting.
Darren waited for answers. Each day was precious. If they missed the deadline to order trees, the company closed after Christmas, which would push the project into spring.
He fought off frustration, "Lord, I know You sent me this job. I don't know how You'll do it, and I'm not sure what will happen, but I still believe it's You. Thank You that it is happening."
A few days later, the "cow guy" worked out a deal to move the cows somewhere else!
Green Light Go
Then it was full-steam ahead! A landscaper let Darren hire his crew at cost. When the trees arrived, even family joined the team. From sunup to sundown, they planted 522 trees in one day—just in time for Christmas Eve the next day.
"It was a miracle!" said Darren. "Through the grace of God, we were able to get it done and get the amount we claimed. I credit that to ReJeanna because she was the one who got behind it and said, 'We need to do this. Let's finish the year strong!' "
During an unlikely time, an unusual job brought an abundant blessing. God did it for Darren and ReJeanna, and He will do it again for you!
---
---
[Editor's Note: ReJeanna Jolliff is a speaker at Kindle the Flame Women's Conference 2019.]
*Kenneth E. Hagin.  How God Taught Me About Prosperity. (Tulsa: Faith Library Publications, 1985), 17–18. Used by permission.
Visit rhema.org/studycenter for more faith-building articles!
---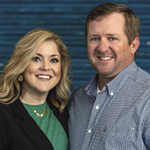 ---
Darren & ReJeanna Jolliff